wrapping paper : : scribble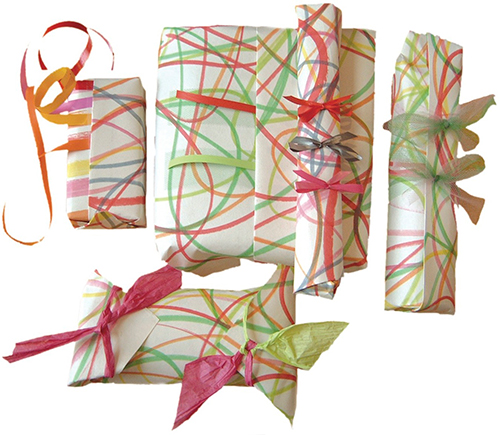 I needed a quick gift wrapping job for a kid's birthday party.
So I grabbed my favorite Berol markers (I think they're only available in the UK but, you can use any markers) and scribbled on some of my kid's IKEA manilla paper (comes in a roll for use with the IKEA easel).
It's fun to do several sheets in contrasting colors.
Use reds, pinks, yellows on one and blue, greens, purples on the other. Then wrap as an assemblage.
or
You can add contrast by scribbling the same colors but on different colored papers eg: bright white and manilla.
or
as you can see on the small gift to the left (above), you can contrast stripes with scribbles.
For this copper metallic wrapped gift I scribbled a zig zag pattern in one direction with a white crayon and then turned the page and zig zagged in the perpendicular direction. Then I washed over the whole sheet with diluted copper tempura paint.