fav links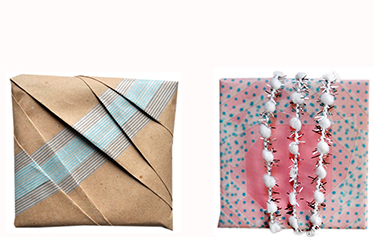 ESSIMAR
You can find pictures of the work by my favorite wrapper and inspiration at these links: Essimar, Essimar and Essimar.
---
PRESS
The Houston Chronicle published an article about me including a video of me demonstrating the chocolate bar wrap at this link: chocolate bar wrap.
---
 Origata
---
FAVORITE KOREAN GIFT WRAP BLOGS
My favorite Korean gift wrapping blogs have so many great ideas!! You have to be patient and do a lot of google translating.
I think the following two links are from the the same person who wrote this lovely gift wrapping book:
http://barammaneo.tistory.com
In the right column there's a column of Korean text with numbers next to it. Click on the link with the largest number.
and
http://blog.naver.com/bestworth
For food gift wrapping go to this page and click on the word "food" (the other links are good too):
---
A FAVORITE BOOK
Not really a link. This is a beautiful little book on gift wrapping put out by a shop in Tokyo called Spiral Market.
For more recommended gift wrap books see my wrapism pinterest page.
---
SHAMELESS FRIEND PROMOTION
My friend Shawn makes THE coolest unique picture frames from wood that she personally selects as it is being planed into boards.
Check out her photo stream at Mullberry Woods.