gift wrapping : : pipe cleaners
Pipe cleaners make embellishing very fast and easy and fun.
I've found this material in a number of different forms. I've  found spools of pipecleaner at Hobby Lobby and Michaels.
The blue and purple examples below were sold at Habitat in London as a Christmas tree garland. I've been re-using them for years to wrap around and around really big presents.
Pipecleaners from a package for children's art projects.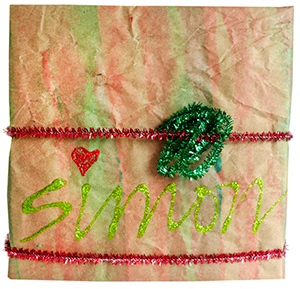 Red sparkly wired ribbon from Michaels.