assemblage : : suzanne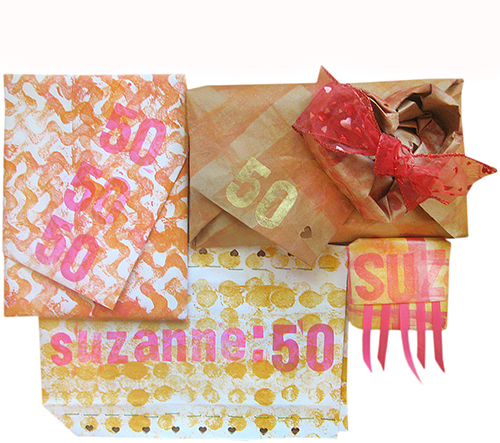 Suzanne's my buddy.
We met at an exercise class in Oslo, Norway in the 80s and have been friends ever since. So, I made a big deal of her 50th. Anything for an excuse to do some crazy wrapping.
I found this metal heart at a museum gift shop. Suzanne hosts a Valentine making party every year for her friends so, it was a perfect gift. The wired heart ribbon came from Ikea.
My signature move… taping ribbon inside the pleats. I have a lot of foam letter stamps.
HOW TO
mix orange and bronze metallic tempera paint
paint in stripes in two directions
cut paper and lay the gift at an angle
fold in sides
wrap paper around gift
fix underneath with double sided tape
cut out little heart on flap with heart punch